Estève Daniel 9 cup
Porcelain cup with bleu de Sèvres decoration enhanced by 24-carat gold "jeux de fond" designed by the artist Lionel Estève in 2016 for the Manufacture de Sèvres. Gold thread at the bottom and on the on lip. Sèvres marks on the bottom.
Art object entirely handmade by our craftsmen in the workshops of the Manufacture. Nuances and variations may appear from one piece to another, making each one almost unique.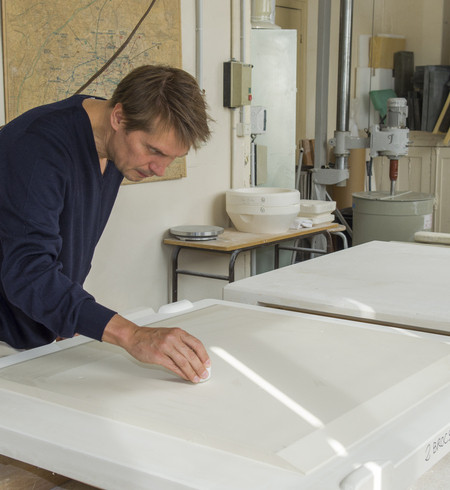 Lionel Estève is a French artist and sculptor. In 2012, he is working on the renewal of the decorative repertoire of "jeux de fond" for the Manufacture de Sèvres. The jeux de fond are decorative motifs applied to the background colour of the pieces. Lionel Estève has created several two-colour sets for plates. Some of them are declined in gold for the decoration of traditional forms from the 19th century to today, vases, plates, tea sets... and applied according to a precise layout, a protocol, agreed with the artist.