Ruhlmann vase no.4
Sèvres porcelain
Defying gravity, the singular silhouette of the Rulhmann n°4 vase evokes the very essence of the Art Deco style. Small and closed vase in garnet red with a cap. Decorated with 24-carat gold threads. Sèvres marks on the inside of the foot.

An art object entirely handmade by our craftsmen in the workshops of the Manufacture. Shades and variations may appear from one piece to another, making each one almost unique.
Jacques-Émile Ruhlmann (1879-1933) was a French decorator and a leading figure in the Art Deco aesthetic.

He made a name for himself by designing sumptuous furniture for a very wealthy French and international clientele. For his luxury furniture, Jacques-Émile was inspired by the finest 18th century productions. He designed and fitted out decorations for the Élysée Palace, the National Assembly, ministries, Parisian town halls, the 1931 Colonial Exhibition, the liner Île-de-France, the Metropolitan Museum of Art in New York, etc.
In the years 1925-1930, he designed a series of very pure vases for the Manufacture de Sèvres and a cup with its saucer, which has been reissued since the beginning of the 21st century after a long pause.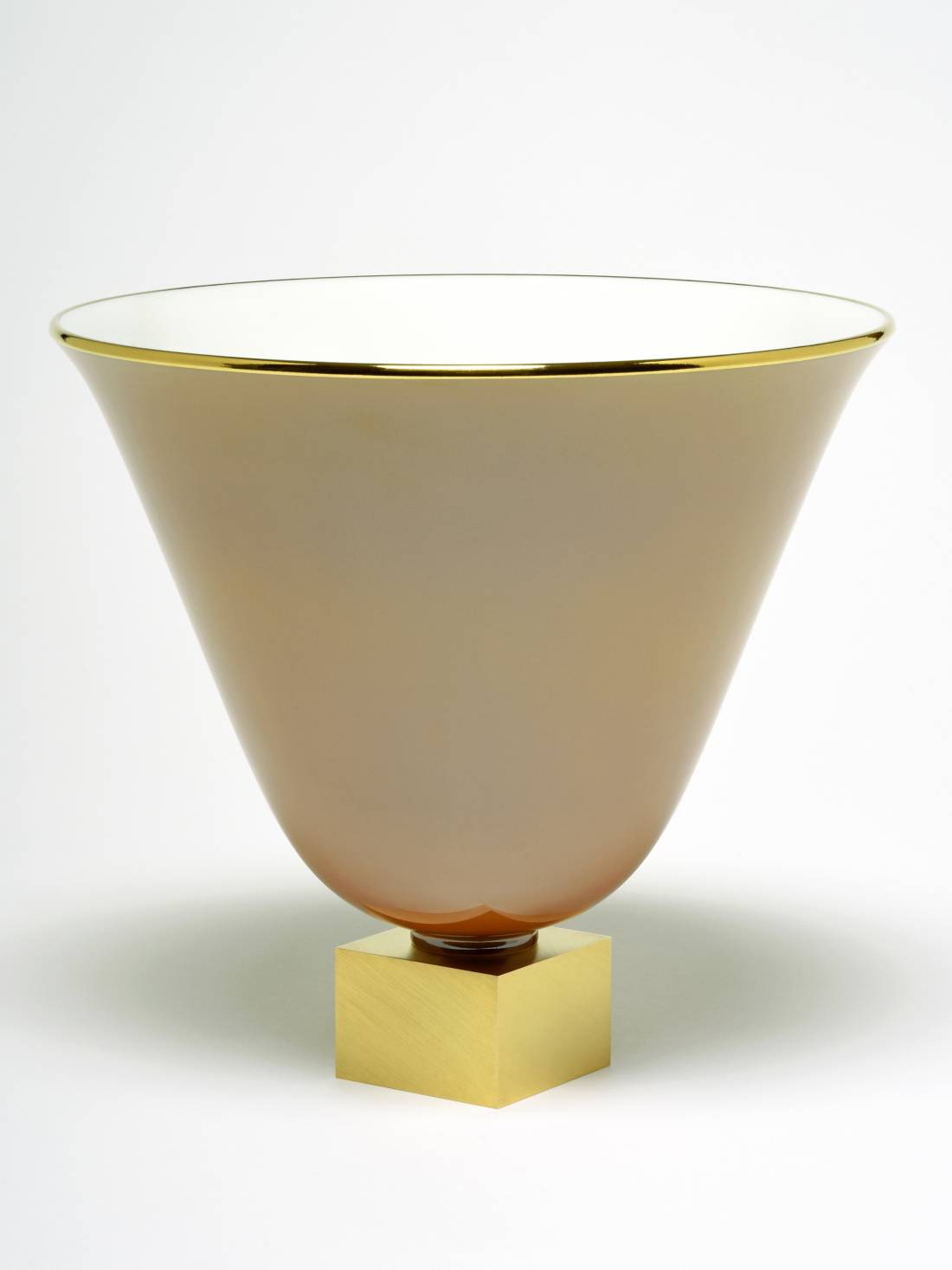 Vase n°3, Jacques-Emile Ruhlmann, cognac colour, gilt bronze base
In 1925, Jacques-Emile Ruhlmann designed several forms of vases for Sèvres, including vase n°3. This cylindrical piece rests on a gilded bronze base with a cubic shape. The colour of the porcelain is highlighted and emphasised by a 24-carat gold fillet on the edge of the vase. The shape of this vase perfectly illustrates the Art Deco aesthetic of the 1930s.

See this piece in the Sèvres showroom.