Nendo Sakura branch
Sèvres porcelain biscuit
Created by the Japanese design studio Nendo in 2017, the small Sakura sculpture combines the delicacy of soft porcelain biscuit with the finenesse of the pastillage technique to evoke a thin branch of cherry blossom. Studio and Sèvres marks at the larger end.

This work is entirely handmade by our craftsmen in the workshops of the Manufacture. Shades and variations may appear from one piece to another, making each one almost unique.
Tribute to nature and poetry, this delicate branch of blooming japanese cherry tree brings with it strong meanings. Questioning our own relation to time passing, by recalling the short-lived character of beauty and life, these immortalized flowers embodie the meeting of japanese philosophy with the perpetuated savoir-faire within the Manufacture of Sèvres.
For the member of Nendo Oki Sato, the making of Porcelain biscuit recalls the principle of Wasi-Sabi, aesthetical ideal embodying plenitude, modesty and manwork.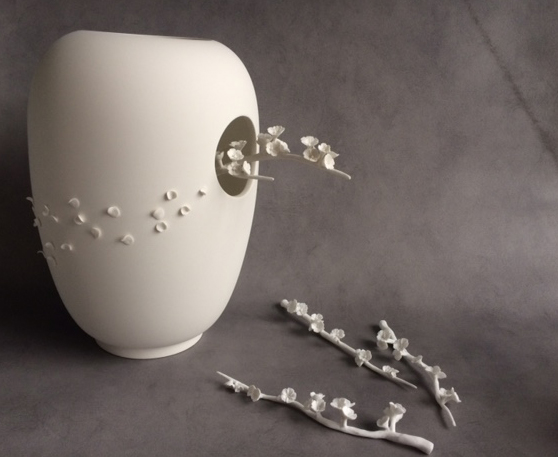 Sakura vase, Nendo, 2017
From the inside of the vase, a branch of cherry tree was born, entirely handmade. Invited in Sèvres in 2015, Nendo offers here its first creation for the Manufacture de Sèvres, the sakura vase.