Bol-sein with tripod
Rambouillet Dairy
An icon of Sèvres' historical repertoire, the bol-sein is from the famous 108-piece service created in the 18th century by the Manufacture for Queen Marie-Antoinette's dairy at the Château de Rambouillet. Milk bowl in porcelain, decorated with a 24-carat gold fillet, placed on a tripod in porcelain biscuit, decorated with ram heads. Sèvres marks inside the bowl.

An art object entirely handmade by our craftsmen in the workshops of the Manufacture. Shades and variations may appear from one piece to another, making each one almost unique.
Made between 1785 and 1788 by the most renowned artists of the manufacture, Louis Simon Boizot and Jean-Jacques Lagrenée le Jeune, the bol-sein - which legend has it was moulded on the Queen's own breast - is undoubtedly the most emblematic element of the royal service commissioned by Louis XVI for the new Laiterie at the Château de Rambouillet, where Queen Marie-Antoinette was to be able to "come and refresh herself with fresh milk".
Inspired by the most recent archaeological discoveries of the time, its shape is reminiscent of the mastos used for drinking at Greek banquets.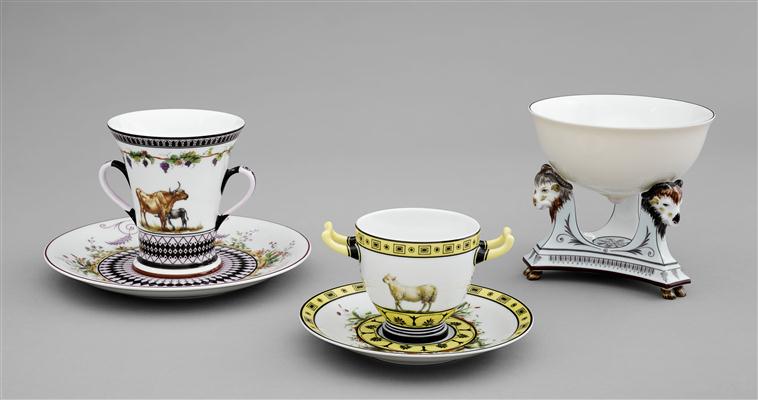 Original items of the service from the Manufacture de Sèvres for the Dairy of the Château de Rambouillet.