Damascus bowl Lalique
Sèvres porcelain cup
A small porcelain cup in Sèvres blue "nuagé", decorated with a 24 carat gold "Zig Zag" frieze designed by Suzanne Lalique for Sèvres. Gold fillets on the foot and lip. Sèvres marks under the foot.

An art object made entirely by hand by our craftsmen in the workshops of the Manufacture. Nuances and variations may appear from one piece to another, making each one almost unique.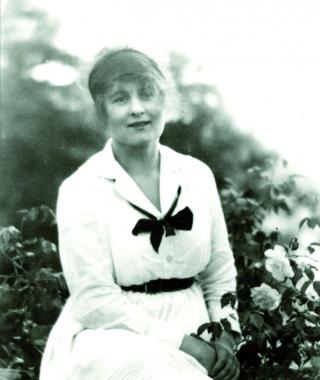 Suzanne Lalique in 1925

Suzanne Lalique (1892-1989) was a multi-talented French artist, illustrator, interior designer, painter and creator of costumes and sets for the Comédie Française. She was the daughter of René Lalique, a master glassmaker and jeweller.

From the 1910s, Suzanne Lalique designed powder boxes, candy boxes and other decorative objects for her father.

As a decorator at the Manufacture de Sèvres from 1914 to 1930, she created numerous designs for lunch plates, tea sets and cups.
Drawing by Suzanne Lalique with "Zig Zag" frieze motif
Dinner plate with black "Zig Zag" frieze pattern